Dining
Whether breakfast, lunch, or dinner, mealtime is about sharing stories, having discussions, and enjoying home-cooked favorites with one another. Entering into advanced life phases means cooking and preparing meals for yourself can become more difficult. Here, at Rambling Oaks Courtyard Assisted Living Residence, we provide you with three nutritious and satisfying meals a day. Through a shared dining experience, we ensure that mealtime remains an integral part of your life, and that you find yourself at home within our assisted living community.
Designed by a licensed dietitian and prepared by our dietary team, we provide guests with a variety of palate-satisfying meals, as well as snacks throughout the day. Served restaurant-style, every meal is an opportunity to try something new and to talk with someone new. If you need assistance during meals or have dietary restrictions, our trained and professional staff can accommodate your needs. No matter the day, you can always look forward to some of the entrée favorites you'll find on our menu, including breakfast items such as:
Pancakes and eggs served any style
Omelets with cheese and sausage
French toast
Biscuits and gravy
Fruit cup, oatmeal, and grits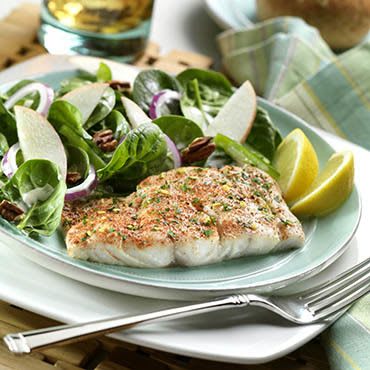 Nutritious and Satisfying
Lunch items, including:
A variety of hot and cold sandwiches
Fresh salads
Baked sweet potatoes
Sautéed squash
Daily soups
Fruit salad
Baked beans
Fried okra
And dinner items, such as:
Chicken breast covered with sautéed onions and bell peppers
Spaghetti and meat sauce
Salmon filet
Shrimp scampi
Brisket
Chef salad
Fried catfish
Meatloaf
Burgers, prepared with any combination of fixings
Request our full menu for a more comprehensive list of the kinds of nutritious, satisfying, home-cooked meals we serve on a daily basis, including regular and sugar-free desserts.